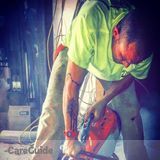 Stefan D
Young Licensed Electrician (Speacialize in New work, service, retrofit/upgrades,or additional work
Electrician in Spartanburg, South Carolina
Hello, My name is Stefan and I am a 25 year old licensed electrician from South Carolina. I have almost 10 years experience in the electrical field and I am very passionate about my work. I have about 4 1/2 years of residential work experience and 5 years of commercial/industrial supervisor work experience. I am looking to start my own company one day in the near future and I am currently looking for projects, service work, retrofits, additional work, new construction, and anything else electrical. I am willing to do whatever it takes to succeed in the electrical field and I hope to be in service of many satisfied clients to come. Stefan S&A Electric C: 864-814-... E: Stefan,
[email protected]
Services
Shock and fire prevention
Recommendations
Allison Vassey
If anyone needs commercial, industrial, or electrical services done, then Stefan del Pino is THE man to contact! I have had the pleasure and privilege of knowing Stefan, for almost 10 years now. Within the last two years, our relationship has grew, and he is now someone very important to me. I have seen Stefan work, under various plight, onerous, apprehensive, and strenuous conditions: all the while maintaining a positive, compelling attitude, and unwavering emphasis for his task at hand. Stefan is a good, down-to-earth, courteous man. His contributions to come up with new innovative solutions, consistent communication, and ability to dominate a challenge, make Stefan a perfect pick for electrical work. Stefan is a diligent worker. I have seen this to be true with his success in Baseball, being drafted out of high school for the Cincinnati Reds; He has completed multiple mullion-dollar projects/jobs, each with high satisfactory and passing rates by examiners, and he seems to always be the man others go to when they have an issue, or they need work to be completed in an effective and efficient manner. Stefan is your all-around handy-man; being able to fix plumbing work, perform electrical services, and maintenance on just about anything! Stefan maintains a professional mindset, as well as attitude at all times, and puts safety of his customers as a top priority. Stefan's knowledge of electrical tasks and engineering, combined with his exceptional work ethic prove, and have proven him to be a successful electrician for his previous employers, and many individual customers.
Mario Delpino
I recommend Stefan D as a electrician
Cathy & ron Lees
I recommend Stefan D as a electrician
Kathy Erwin
Stefan Delpino is a very hard worker and is dedicated to doing his best in all tasks that he undertakes. I personally have had electrical work completed at my home by Stefan and he was very profession and the job was completed I a very timely manner. One thing about Stefan, If I asked him a question because I didn't understand what he was doing, he took the time to explain what he was doing, the reasoning behind it, what the out would be and how it would benefit me in the long run. Stefan is my Daughter's boy friend and they both lived with me for a short while. During that time I recall several nights during the week and on the weekend, that Stefan would take out the plans for the job he was working on and study them marking on them what was to be completed the following days and mapping out the best way to get the most work done in a day. He is very attentive to detail. Stefan has also helped me with repair of my HVAC duct lines under my house. When I ran into a problem, he was able to give me direction on how to fix or handle the issue, thus lowering my heating/air bill down. Stefan is a very quick learner and loves to interact with people. Stefan will stay focus on a task until he completes it. If he is called away for any reason while on the job at hand, he is able to pick right back up on the task and complete without hesitation. Stefan is definitely a multi-tasking person, giving each the dedication required to complete in a timely manner. He works well under pressure, can lead a team, is a team player and will not ask anyone to do anything that he himself would not do.
Share This Profile
Find Electrician in Spartanburg, South Carolina
More in Spartanburg, South Carolina